Lighting
Wood-Mode's integrated lighting program seamlessly blends lighting into the overall design. Featuring LED lighting from Häfele, a leader in LED technology, the result is beautiful, energy-efficient illumination with superb utility and unlimited possibilities.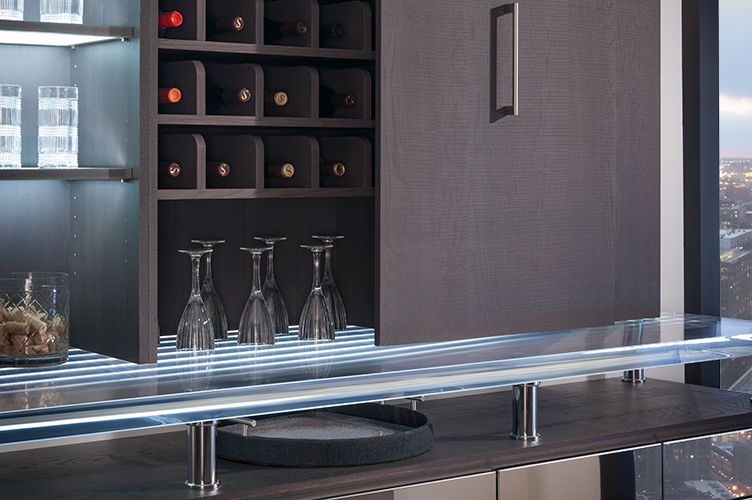 Countertop Integrated Lighting
Perfect for entertaining, the floating Vanguard Bar lights up the room with its integrated lighting. Easily grab a glass and surprise your guests with the perfectly lit shelves and countertop space. Rest your finest cocktail on this lit countertop.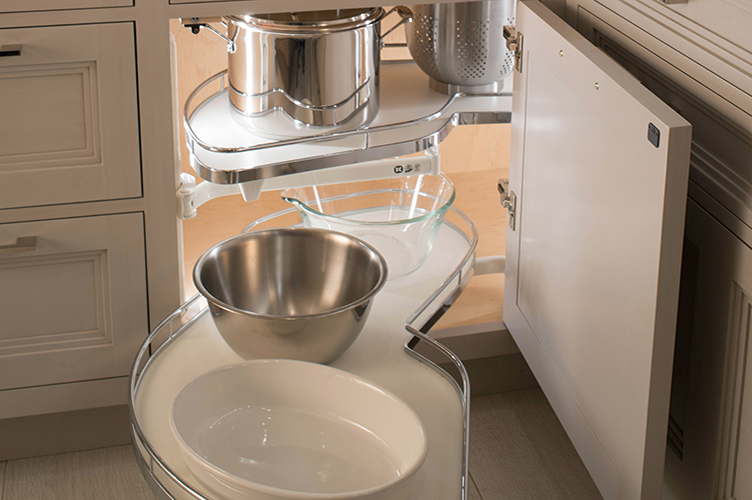 Corner Cabinet Integrated Lighting
Light up your corner cabinet spaces with integrated lighting to easily find cookware in a pinch. With easy control and installation, you'll want to add even more lighting to your remaining dark kitchen cabinets.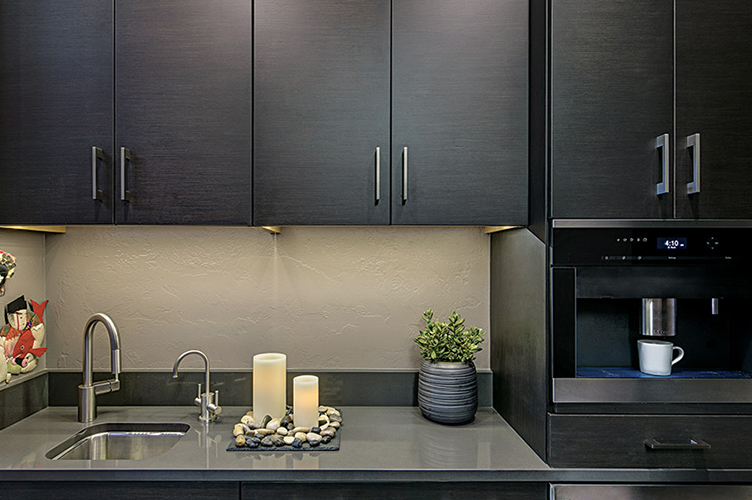 Under-Cabinet Integrated Lighting
This illuminated coffee bar makes every morning a little bit brighter. Under-cabinet lighting in kitchens and similar areas, help to eliminate shadows that are normally created, to help enhance your cooking experience.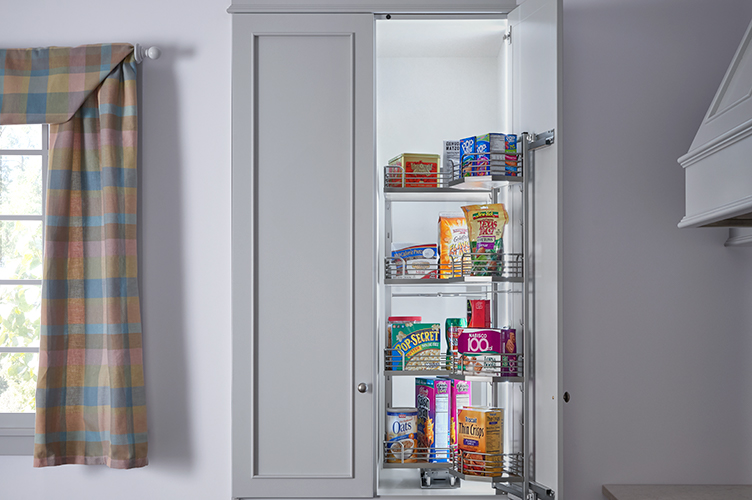 Pantry Integrated Lighting
Having trouble seeing all the items you have in your food pantry? Adding integrated lighting makes finding what you're looking for a breeze. With ample food and cookware storage, this pantry is the perfect addition to any kitchen.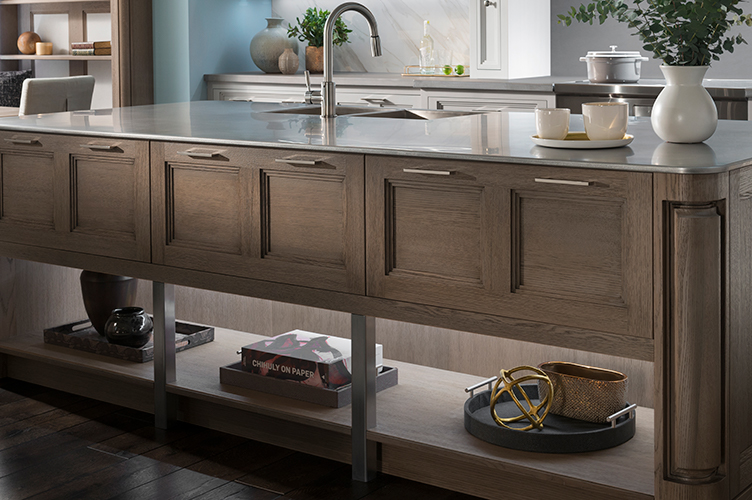 Island Integrated Lighting
Avoid dark spaces in your kitchen with integrated island lighting. This lighting helps to illuminate the space, make it look more open, and provide a place for decorative pieces.
Wall Cabinet Integrated Lighting
Lighting inside glass cabinetry can help accentuate any space, especially in the Brilliant Vista kitchen. With shining stainless steel cabinetry, the featured integrated lighting prominently highlights the accented glassware inside.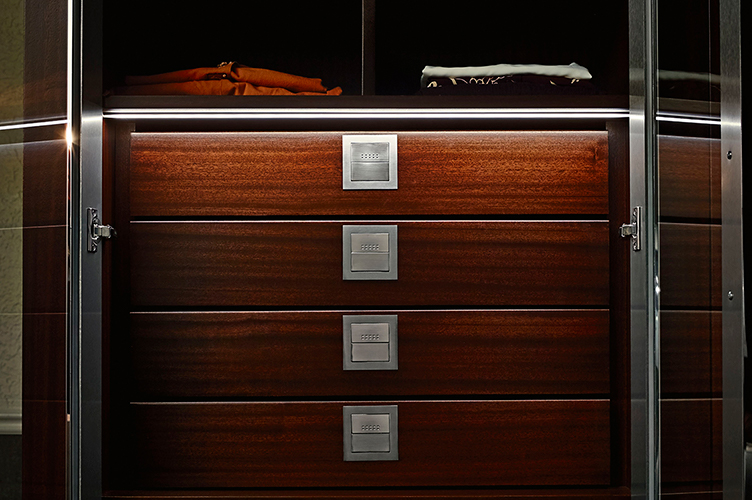 Closet Integrated Lighting
A well-organized closet is always admirable, but there is still the struggle of seeing your wardrobe in the dark spaces. Brighten your closets with integrated lighting to eliminate dark corners and drawers, making it easier to find the perfect outfit for any occasion.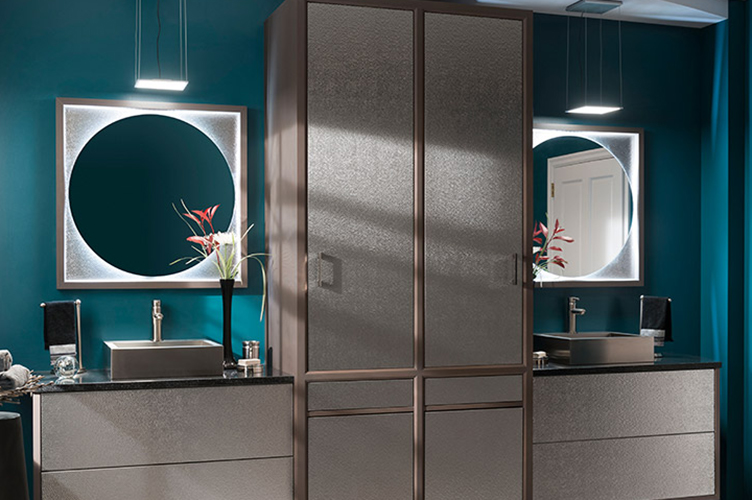 Mirror Integrated Lighting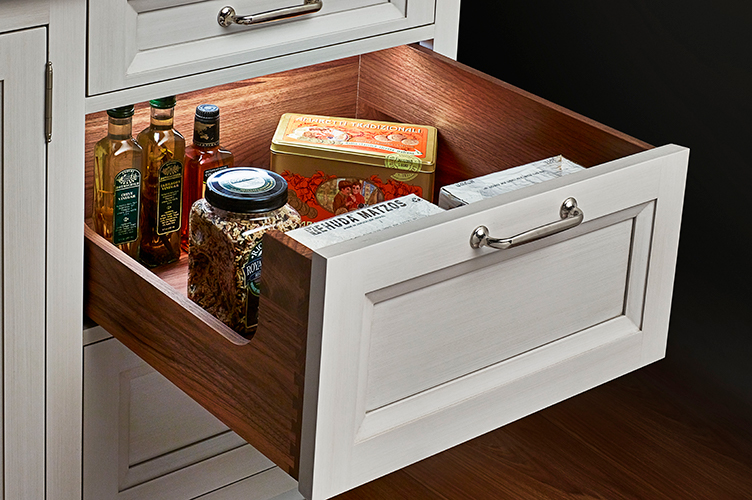 Drawer Integrated Lighting
Store anything from the kitchen in this drawer with built-in lighting to easily find your utensils, cookware, and necessities. Adding this functional integration to all rooms of the house will make all drawer items accessible and identifiable.